Solid waste volume reduction up to 50%
Easy installation
Small footprint/closed unit
 Easy maintenance
Low maintenance costs
 Reliability and durability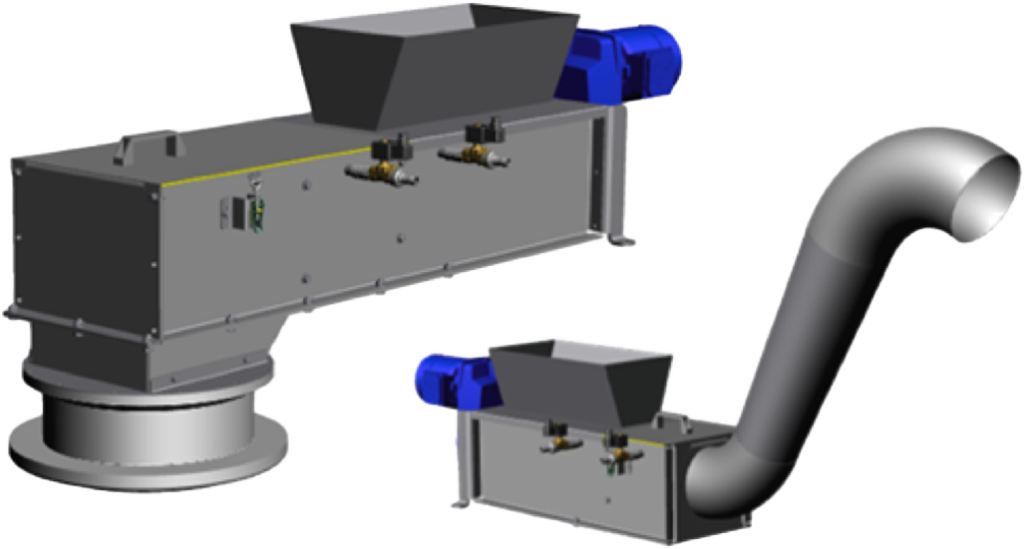 The trough consists of a double envelope design, one of which consists of a grid for the removal of the organic matter and on which the screw lays.
The shaftless screw is manufactured in special hardened steel and lay on PEHD half circle sections. The sections insure sliding of the screw on the screen and continuous cleaning.
The Envirocompact is available in two versions: one with a specific adjustable counterpressure system «Conixpress» which allows to adjust the compacting performance of the machine (Model SPP1), the other with a gooseneck pipe which provides a higher point of discharge of the dry waste (Model SPP2).
Model
DATA
SPP1 - 200
SPP1 - 250
SPP1 - 300
FLOW RATES (M3/H)
1
1.5
2.5
INSTALLED POWER (KW)
1.5
3
5.5
Construction in stainless steel 304L or 316L
Screw in special steel high resistance
Length in mm
MODELS
CONVEYING (MINI)V
COMPACTING
LENGTH
HEIGHT(1)
SPP1-200
500
490
480
600
SPP1-250
750
600
530
650
SPP1-300
1000
770
580
700