Closed unit
Mixing efficiency
Modularity
Easy installation and maintenance
Low maintenance costs
Reliability and durability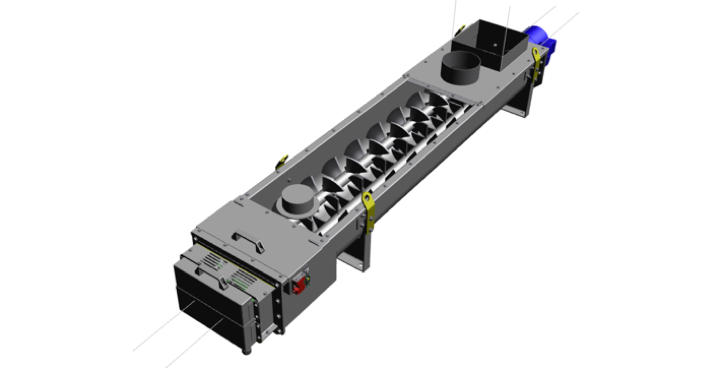 The feed outlet for the reception of the products to be mixed and the discharge outlet are custom made according to the configuration of the installation.
The diameters of the rotors and the pallets are sized according to the total flow to be mixed. The length of the trough defines the mixing time. Standard dimensions have been fixed, but it is possible to adapt the length of the machines to adjust the contact time or to adapt to the environment. Moreover, in order to optimize the quality and the appearance of the mixture according to the nature of the products, the use of a speed variator is strongly recommended (both rotors are driven by a single motor).
Models
EPV 200
EPV 250
EPV 300
Flow rate (m3/h)
2
6
12
Installed power
2.2
2.2
3
Construction in stainless steel 304L or 316L
Rotors and pallets in special steel high resistance
Overall dimensions in mm
Models
EVP 200
EVP 250
EVP 300
Rotors diameter
200
250
300
Trough length
2000
2500
3000
Trough width
450
530
620
Trough height
260
310
400