Sludge storage
Bottom extraction
Screw with shaft and without
Screw variable pitch
 Reliability and durability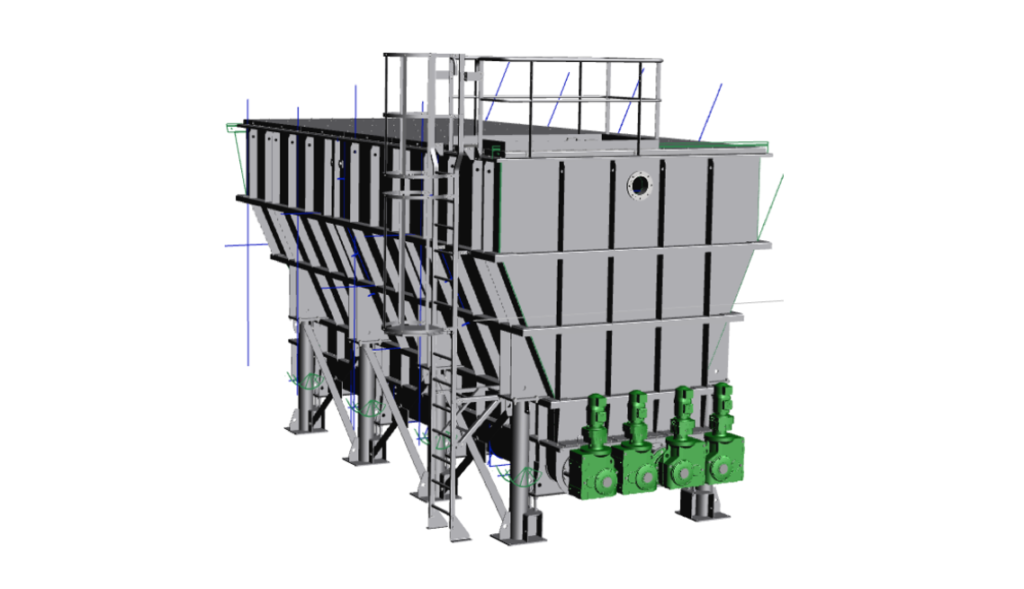 For shaftless screws, the troughs are U-shaped and serve as a guide. For screws with axis, a flat bottom trough solution is generally used.
The shape of the discharge case is modular according to the configuration of the implantation and according to the equipment chosen further for the transfer of the sludge. This version is also used for the recovery of sludge under filter press (Enviroduo).
The shaftless screws are laying on HDPE lining and are guided by the shape of the trough which keeps them in their axis. This is generally the solution chosen for screw extractors. The screws with axis are guided by bearings at the ends and intermediate bearings according to their len
Flow rates(m3/h)
Models
MTX 200
MTX 250
MTX 300
MTX 350
MTX 400
MTX 500
Dewatered slude
Up to 100 m3/h depending on diameter, number of screws, rotation speed and other design criteria
Construction in stainless steel 304L or 316L
Screw in special steel high resistance or stainless steel 304L or 316
Overall dimensions in mm
Models
MTX 200
MTX 250
MTX 300
MTX 350
MTX 400
MTX 500
Dimensions
Design and manufacturing on demand