Solid waste volume reduction up to 50%
Easy installation and maintenance
Compact and closed unit
 Proven technology
Low maintenance costs
Reliability and durability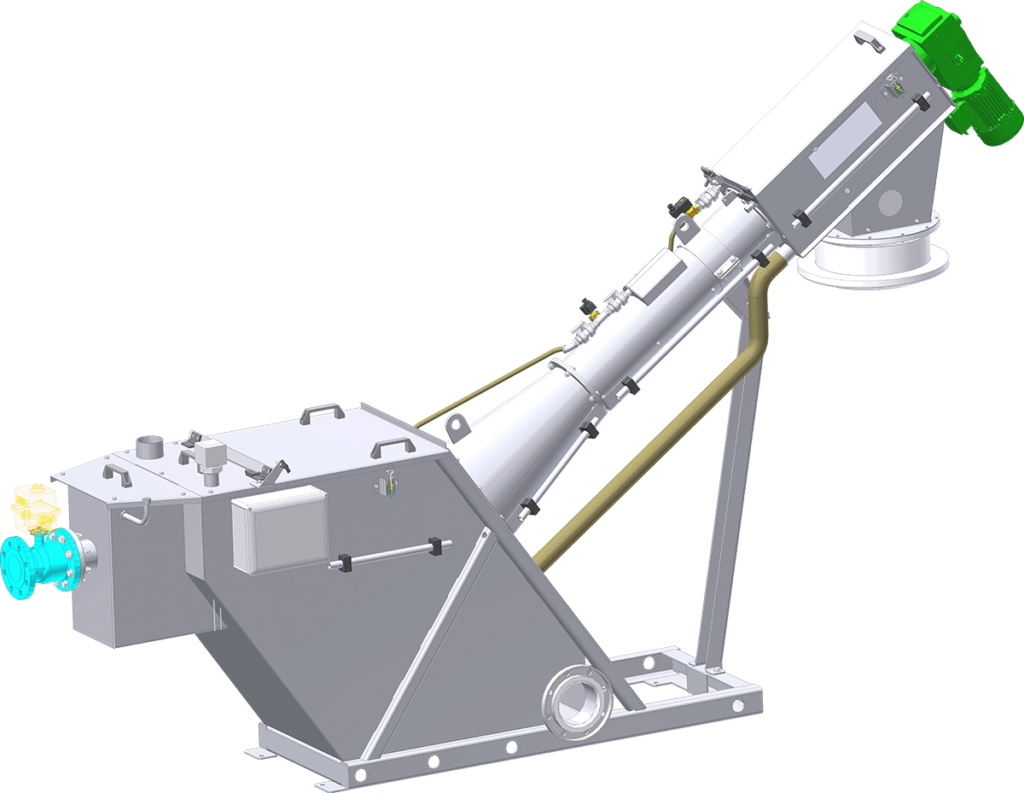 The effluent from scepic tanks drainage is processed through the cylindric filtration grid. Due to such design, the effective filtration area is much larger compare to flat screening technology. Brushes are fixed onto the shaftless screw in order to keep the filtration zone clean and flow efficient by rotation during operation.
The screw is extended to the conveying zone and then to the compacting zone before solid waste discharge. Length is adjustable on case by case basis.
On the upper part, the solid waste is compacted in order to remove water and reduce the volume.
In order to reduce the organic content present in the solid waste, a washing ramp is installed along the screeening zone. An additionnal washing ramp, in otion, can be installed along the conveying zone as well.
The screening waste can be either discharged directly into containers or conditionned in continuous closed plastic bagging unit.
Hydraulic flow rates with septic liquid waste (m3/h)
MESH (MM)
SPS 80
SPS 120
5
60
100
6
70
110
7
80
120
INSTALLED POWER (KW)
1.1
1.5
Construction in stainless steel 304L or 316L
Screw in special steel high resistance
Overall dimensions in mm
MODELS
SMALL
SPS 120
LENGTH
3200
3200
WIDTH
2200
2900
HEIGHT
600
900