Large range of flow rates
Flexible to flow rate variation
 Not sensitive to waste
Design with and without trough
Up to 3 m diameter and 20 m length
Lifespan over 30 years
Low maintenance costs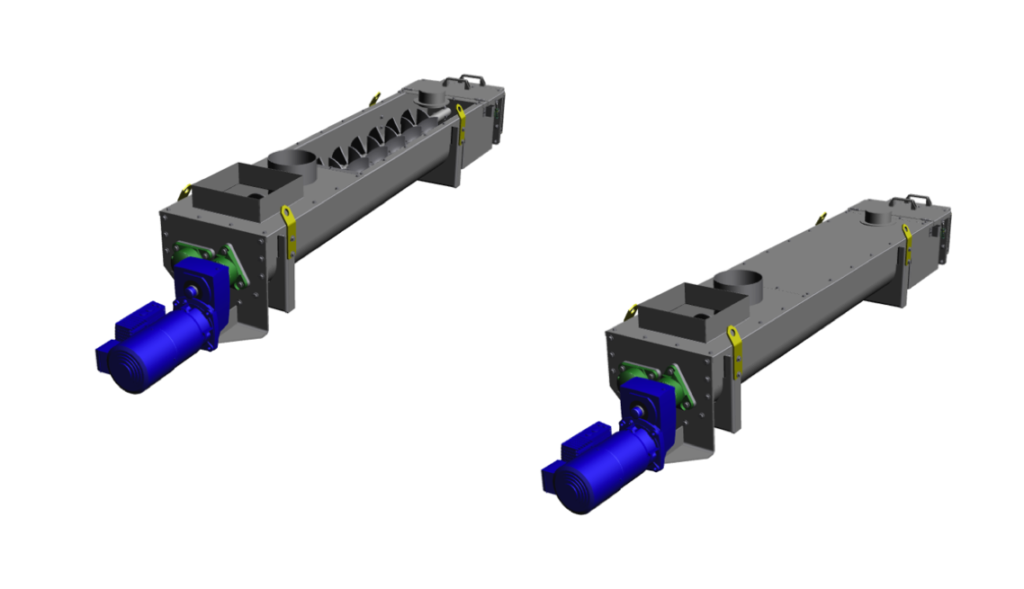 The diameter and the thickness of the central tube are calculated in function of the external diameters, the length and the inclination of the lifting screw, but also according to the number of spirals.
The diameter, pitch, and number of screws are calculated according to the desired flow and height of lift, taking into account the geometry of installation. The screw absorb the flow which arrives at the foot to maintain it to the upper part. This is within the limit of the capacity for which it has been dimensioned. It is a so-called volumetric pump.
The power of the drive unit is calculated in relation to the geometrical characteristics of the lifting screw and its maximum flow. It is an essential component that must be perfectly aligned with the screw axis.
The trough of the lifting screw is traditionally made of concrete by the civil engineer. This is a rather delicate operation. For this reason, we offer metal troughs that are particularly well suited and which ensure the perfect alignment of the screw with respect to its trough. Implementation is therefore much simplified.
Flow rates(m3/h)
Models
Diameter from 300 to 3 000 mm
Capacity
Up to 11 000 m3/h per unit
Construction in stainless steel 304L or 316L
Overall dimensions in mm
Models
EVM 300 to EVM 3 000
Screw diameter
From 300 to 3 000 mm
Length
Lenth up to 20 meters